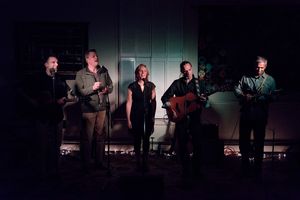 10/28&29 - Old Parish House
Paint Branch Creek returns to our home base, College Park's Old Parish House, with two exciting nights of new music, old favorites and special guests! 
The intimate venue is the perfect setting for Paint Branch Creek's harmony-rich, original acoustic Americana.  We will be joined by special guests Ian Riggs on bass, Anissa Sunday on drums, and Julian Maring on piano. 
Join us on October 28 & 29 to mark 5 years since our first OPH concerts - and to celebrate a milestone (50th!) birthday for Eric Maring!

Friday 10/28 and Saturday 10/29 at 8:00pm
4711 Knox Rd
College Park, MD
--AND--
10/20 - Riverdale Park Farmers Market   
Thursday, 10/20 from 4:30-7pm  
6220 Rhode Island Avenue  
Riverdale Park, MD  
https://riverdaleparkfarmersmarket.com/