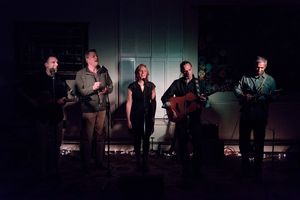 Paint Branch Creek - featuring musicians Eric Maring, Allison Hughes, Greg Heelan, Patrick Lynch and Arun Ivatury, with lyrics by Eric Olson - is an acoustic musical collaboration rooted firmly in Americana. The group's original songs have quietly come to life during late College Park nights and sessions in a Gettysburg barn. Conjuring visions of America - night shifts and mill towns; prairie lands and open road - some reflect on where we've been, some question where we're going, and some just linger on old memories.
Paint Branch Creek casts a musical spell that delights fans of acoustic performance. Evocative lyrics inspire the group's bold original music. Whether delicate or hard-driving, each song is unforgettable. 
Paint Branch Creek has created deep connections with its enthusiastic audiences and earned loyal fans.  Engaging and personable on stage, the group creates shows that are thoroughly entertaining, deeply moving, and not to be missed.