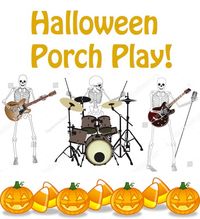 PBC joins in the Porch Play fun this Sunday 1:30pm. 
Bring a chair or blanket and enjoy some live music. 
Sunday, Nov 1, 1:30-2:30pm
In front of 6705 Rhode Island Ave, College Park, MD 
**Note the time change from the original schedule** 
Soggy yard and rained out rehearsals... we will all be drier and warmer on Sunday! 
There is plenty of space to spread out on the street and path that runs in front of the house. 
As always these days, masks, social distancing, etc. 
View the full Halloween Porch Play schedule on the College Park Arts Exchange website. 
http://cpae.org/arts/2020/10/24/halloween-porch-play/